This morning I received an interesting yet disturbing message on the Google Calendar gadget on my iGoogle home page: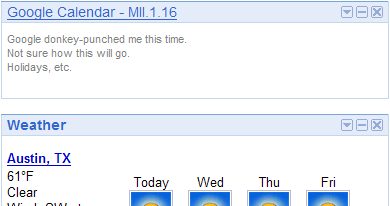 Great gadget that it was, I think I might be a little more discerning about what gadgets I put on the home page. Word of warning, you probably don't want to google "donkey-punching", definitely NSFW. It looks like Google changed something, broke the gadget, and the gadget author decided to let everyone know, through an….interesting means.
Post Footer automatically generated by Add Post Footer Plugin for wordpress.