My Live Writer beta expired at the beginning of the year, but I'm still going strong: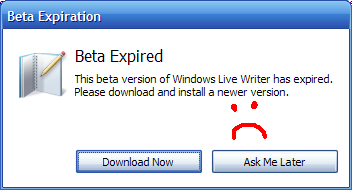 I don't see the "Ask Me…..Never" button, so I'll just click the Later button. It's still less work to click a button once a day than it is jumping through the hoops to get Live Writer installed on a Server 2003 machine. I still love the LW, so I'll keep clicking away.
Post Footer automatically generated by Add Post Footer Plugin for wordpress.