Rdio in Twitter
---
Maybe it's old news, but I can't find anything. I recently posted a link to an Artist in Rdio inside a tweet and it showed up playable to me. I can only assume that it's playable to anybody with a current subscription to Rdio.
Rdio in Twitter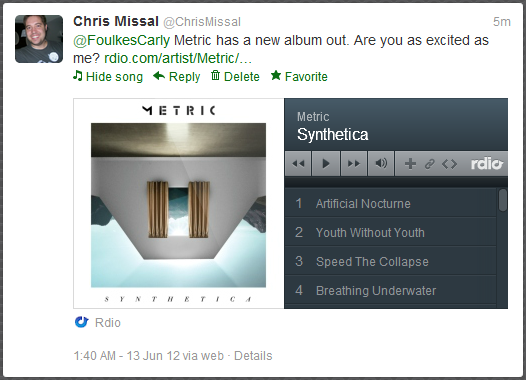 I'm a user and fan of Rdio, so I think this is cool.
Rdio API in the Browser
I also found out recently that Rdio has a pretty potent API and developer program. Check out these links:
Rdio Console – If you're logged in, you can run commands to Rdio through the browser!
Rdio Developers – The place to start if you're thinking about using some codez to talk to Rdio.
I hope you found something useful here, just sharing my recent revelations!