Slap-Slides: Arduino Powered Veggie Chopper Slide Deck Controller
---
A few weeks ago I half-jokingly tweeted about my desire to turn a SlapChop in to a presentation controller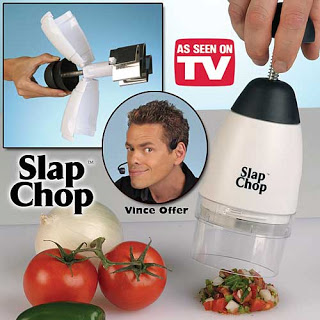 … like I said … "half-jokingly"
I give you the Slap-Slides, proof of concept! (no audio)
The code is written in Johnny-Five, running in NodeJS, connected to an Arduino Nano. I bought the cheapest veggie-chopper I could find at my local grocery store, ripped the blade out and mounted a 10k button on to the plate that the blade was previously on.
I'll be soldering this in to a proper set up housed entirely in the veggie-chopper, and stabilizing the button (right now it fails every 2 or 3 clicks because of the mounting in the veggie chopper.
UPDATE: I have it nearly complete.
I have the primary circuitry soldered on to a component board, and some holes cut in the housing in order to clean up the entrance of a USB cable in to the chopper.
Here's a series of pictures that show the components and assembly… making code skinny, one slap at a time 😀