Win Free Copies of NHibernate 3 Beginner's Guide
---
Readers would be pleased to know that I have teamed up with Packt Publishing and we are organizing a Giveaway especially for you and three lucky winners stand a chance to win a copy of Keep reading to find out how you can be one of the Lucky Winner.
Overview of Nhibernate 3 Beginner's Guide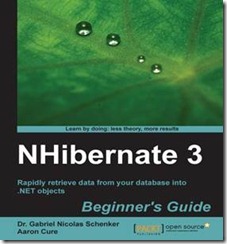 · Clear, precise step-by-step directions to get you up and running quickly
· Test, profile, and monitor data access to tune the performance and make your applications fly
· Reduce hours of application development time and get better application architecture and performance
Read more about this book and download free Sample Chapter**
How to Enter?
All you need to do is head on over to the book page and look through the product description of this book and drop a line via the comments below to let us know what interests you the most about this book. It's that simple
Product description for NHibernate book: http://www.packtpub.com/nhibernate-3-beginners-guide/book
Winners from the U.S. and Europe can either choose a physical copy of the book or the eBook. Users from other locales are limited to the eBook only.
Deadline
**
** The contest will close on 30/12/11 PT. Winners will be contacted by email, so be sure to use your real email address when you comment!